Hardwood Banisters and Railings at St. Charles Hardwoods in St. Louis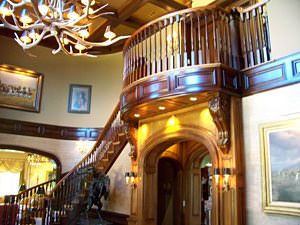 Are you looking for sturdy and stylish stair parts for your home? St. Charles Hardwoods offers an extensive range of banisters and railings in several wood species. Apart from our broad range of stair parts, banisters, and railings that we keep in stock, we offer a variety of customized designs unique to suit your home. We have been supplying stair parts to homes all over the St. Louis metropolitan area for over two decades, and are trusted to provide top quality wood and lumber products.
Our unique range of wood railings and banisters are available in a wide variety of wood species. While we do offer our products in white primed wood, you can also choose from a range of exotic species like Hard Maple, Red Oak, and Poplar. Contact us today if you are looking for a reliable supplier for wood railings and banisters for your home's new stairway!
Find Stylish and Exclusive Banisters and Railings from St. Charles Hardwoods
Banisters and railings are generally purchased together to match their size, thickness, and designs. At St. Charles Hardwoods, we offer an extensive range of banisters and railings made of wood. Wood is the most common type of banisters and railing used in homes around the St. Louis area. This is because it offers beauty and function. Additional advantages of choosing wood banisters and railings include:
Unlike metal, wood does not reflect light, which allows it to add serene warmth to the room.
Wood railings and banisters are low maintenance, as they only require an initial coat of lacquer to protect the surface and occasional polishing or dusting.
Simple maintenance and repair work can increase the lifespan of wood railings and provide the same quality as brand new banisters.
Wood banisters are durable and sturdy compared to their vinyl counterparts and face fewer chances of being damaged.
Pressure treated wood railings and banisters are effective in outdoor settings as they can withstand humidity, moisture, cold, and warm temperatures.
St. Charles Hardwoods offers a wide range of railings that can match the décor of any house, whether you are opting for traditional or contemporary interiors. Contact us today to learn more about the wood railings and stair parts available at our St. Louis stores.
Looking for Banisters and Railings? Here are Reasons to Pick St. Charles Hardwoods!
When installing a new stairway in your home, some important and crucial components like banisters and railings should be chosen carefully. Apart from the quality of these components, you should look for a supplier who offers reliable and trustworthy services. The following are some of the main reasons why you should choose us:
Wide variety of in stock products for quick availability
Customized banister & railing manufacturing to meet any style
Quality craftsmanship and products
Broad range of stairway accessories available
Identical matches for existing or replacement parts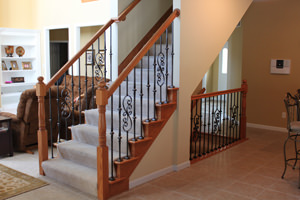 As one of St. Louis' leading hardwood products suppliers, we have built a reputation for delivering high quality products to meet any customers' needs. Regardless of how small or large your order is, we promise to deliver on time without wavering on pricing or quality.
To see our excellent selection of banisters and railings or to place a custom order for any wood stair parts, contact us today by phone at (636)926-2000 or (636)717-1770 or visit one of our St. Louis area stores.