Ceiling Panels: Custom Wood Ceiling Panels and Molding in St. Louis
Wood architecture and design can provide a traditional and elegant look to any home. While ceiling panels are available in a host of different styles and materials, traditional ceiling panels never lose their charm. Wood ceiling panels come in different styles and can be made from many different wood species. With so many options to choose from, choosing ceiling panels can be a difficult task unless you have a professional to advise you.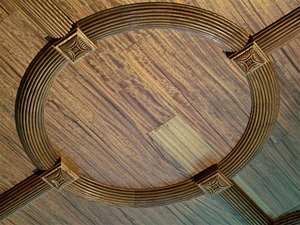 St. Charles Hardwoods is a lumber supply company that supplies a variety of hand carved and custom woodwork. As a leading wood and lumber supply company in St. Louis, it is our goal to provide one of the largest selections of quality products to our customers. This includes a variety of types of trim and moulding as well as wood ceiling panels made from many wood species. To learn more about the types of ceiling panels and trim that we sell or to place a custom order, contact our hardwood lumber company or come in to one of our St. Louis area stores today.
Types of Ceiling Panels
Before you purchase and install wood ceiling panels in your home, there are a number of factors that you need to understand. The first is the process by which wood ceiling panels are constructed. There are two methods by which ceiling panels may be made. This includes using sliced wood or sawn wood.
Sliced Wood Ceiling Panels: With this type of panels, woodwork specialists create ceiling panels by using quarter sliced, rift sliced, or plain sliced wood. After slicing, the wood is glued to chipboard, fiberboard, or some alternative material. This is the cheaper option because although the material displays a grain pattern and finish resembling wood, the majority of the panel is made of a composite material.
Sawn Wood Ceiling Panels: The more expensive alternative to make ceiling panels involves using quarter sawn, vertical grain, rift-sawn vertical grain, or plain-sawn flat grain wood. The main difference in sawing the woods in different ways lies in the varied grain patterns that emerge. The use of thick planks of wood make these ceiling panels more expensive than sliced wood panels.
Ceiling panels can be made using many different kinds of wood types depending on the method in which the ceiling panels are created and the final style desired. For example, white birch, white oak, maple, walnut, bamboo, and cherry are common species for wood that is quarter sliced or quarter sawn, as this develops a nice grain. For plain sliced or plain sawn ceiling panels, common wood species include red oak, white birch, beech, cedar, walnut, poplar, cherry, ipe, and flat grain Douglas fir. The two most popular kinds of wood used for rift sliced or rift sawn ceiling panels include red oak and white oak.
What to Keep In Mind When Choosing Ceiling Panels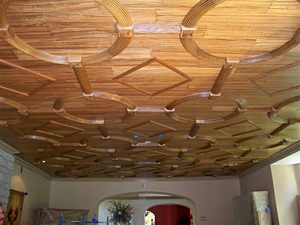 When selecting the type of ceiling panels you prefer, you will want to think about the aesthetics of your home. Typically, most individuals choose wood species that are consistent with the other types of wood used throughout a room or their entire home. In addition, the overall style your home has should influence your decision. For example, you may want to achieve a classier and more upscale look with dark cherry ceiling panels. On the other hand, for a more rustic look, ceiling panels with a distinct grain pattern may be a better choice.
St. Charles Hardwoods is a specialist in ceiling panels and wood moldings. We have a variety of wood molding and design options available for you to choose from. We take pride in the fact that we can customize your ceiling panels to match your preferences perfectly. With over twenty years in the woodworking business, we have a wealth of experience and can help you with any kind of wood related project.
Check Out Our Huge Variety of Ceiling Panels Available at St. Charles Hardwoods
If you would like to learn more about the types of moulding, trim, and wood wall or ceiling panels that we have available or that we can custom manufacture for your needs, contact us or come by one of our stores today!