Contact Our Hardwood Lumber Company in St. Louis
If you have questions for our hardwood lumber company about the products that we carry in stock or if you would like to talk with us about ordering custom hardwood products, please feel free to call or come into our St. Louis store.
Our Hardwood Lumber Company Store Location
Main St. Charles / Peters Store: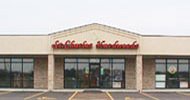 3909 Mid Rivers Mall Drive
St. Peters, MO 63376
Phone: (636) 926-2000
Fax: (636) 926-8080
Store Hours: MTTF 8am to 6pm, Wed 8am to 7pm, & Sat 8am to 2pm.
View Map
Email: [email protected]
Learn More About Products Available from Our Hardwood Lumber Company
If you would like to learn more about any of the products that are available from our hardwood lumber company, please contact us or visit one of our St. Louis area stores. With over 200 profiles in stock of architectural mouldings and other milled products in some of the most popular wood species, we have the hardwood products to meet any woodworker's needs. To see the types of mouldings and other hardwood lumber products that we have available in stock you can browse our products here on our website or in our stores. You can also contact us to talk with our knowledgeable staff that is available to help you compare the options that we have available and select the best choice.
Order Custom Hardwood Lumber Millwork
In addition to providing a complete selection of mouldings and other woodworking products in stock, we can also create any custom architectural profiles at our St. Louis area mill. If you would like to learn more about ordering custom mouldings or to order the custom mouldings that you need for any project, please contact one of our St. Louis area stores.
Get Advice From Our Hardwood Lumber Company Experts
At our hardwood lumber company, we strive to be a complete resource for all woodworkers. Therefore, we hire only knowledgeable employees who can offer professional advice and outstanding service to our customers. Our staff is comprised of experienced people who come from several fields of woodworking. Therefore, they can provide accurate and expert advice. We also offer our customers access to books and instructional videos covering a variety of topics. With this ability to offer expert advice, we are a trusted woodworker's source for the St. Louis area.
To learn more about any woodworking subject or to ask for our professional advice and expertise to help you handle any project, please contact our hardwood lumber company or come by one of our stores.
Buy Hardwood, Lumber, & More in St. Louis
Come into one of our local St. Louis stores today to purchase any of the hardwood, lumber, moulding, or other woodworking products and accessories that we stock in our stores. With our large selection of products in stock and limitless custom mouldings, we look forward to becoming your primary source for woodworking products, hardwood, lumber, and woodworking knowledge in the St. Louis area. To find out how our hardwood lumber company can meet your needs, please contact us or visit our St. Charles Hardwoods store today.