Fireplace Mantels: Custom Wood Fireplace Mantels, Shelves, Surrounds, & Columns
At St. Charles Hardwoods, we have two main fireplace mantels that we carry in stock in both Red Oak and Birch wood. We can also custom build a fireplace mantel for you to meet your specific size and style requirements.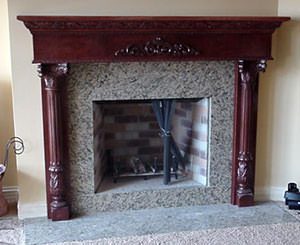 Our custom wood fireplace mantels are made at our mill using the finest techniques and equipment. These wood mantels offer a unique beauty and design for those building custom homes or remodeling existing houses. Your custom fireplace mantel will be made to meet your exact specifications and can be delivered directly to you or picked up from one of our St. Louis stores.
To learn more about our wood fireplace mantels or to purchase your mantel, please contact our hardwood lumber company or visit one of our St. Louis lumber stores today.
Types of Fireplace Mantels
We carry two styles of fireplace mantels in stock including Red Oak and Birch mantels. Additionally, because we own our own mill, we can create nearly any custom wood fireplace mantel to meet your needs and desires.
This includes intricate fireplace mantels complete with fireplace columns and intricate detail and moulding work as well as contemporary and modern fireplace mantels with clean and simple lines. With our complete selection of fireplace mantels to choose from, you can find the mantel that fits the specific style and design that you are hoping to achieve.
Our available fireplace mantels include:
Formal Fireplace Mantels
Traditional Wood Fireplace Mantels
Elegant Fireplace Mantels
Rustic Fireplace Mantels
Simplistic & Modern Fireplace Mantels
Contemporary Fireplace Mantels
Double Fireplace Mantels
Fireplace Mantel Shelves
Fireplace Mantel Columns
Why Choose our Fireplace Mantels
As a leading hardwood and lumber supplier for the St. Louis area, we at St. Charles Hardwoods strive to provide our customers with top quality fireplace mantels in the latest styles. We can create custom built fireplace mantels using a variety of types of hardwood. With our company owned mill, we can customize your fireplace mantel with nearly any features including overlays and wood appliqués, corbels, radius millwork, rosettes, wood brackets, mouldings, fireplace columns, and more.
Our wood fireplace mantels are the ideal choice for many homebuilders, designers, and homeowners because they are:
Solid Wood: Our fireplace mantels are cut using the finest hardwood and materials at our mill. By cutting each wood piece ourselves, we can ensure accuracy and quality.
Available in Custom Sizes and Styles: We can create or design a wood fireplace mantel to meet any specifications. We offer a variety of styles to choose from and can incorporate any of a number of features and elements into your fireplace mantel design.
Ready to be Stained or Painted: Because we use only high quality wood when making our fireplace mantels, all of our fireplace mantels come to you ready to paint or stain to your specifications.
To order your custom wood fireplace mantel, contact our hardwood lumber company online or by phone today. You can also come by our St. Louis location to see examples of our custom lumber work and to work with us to design your custom fireplace mantel.
Learn More About Fireplace Mantels