Hardwood Flooring: Prefinished & Unfinished Hardwood Floors in St. Louis
At St. Charles Hardwoods in St. Louis, we sell a wide selection of hardwood flooring including both prefinished hardwood flooring and unfinished hardwood flooring in a variety of styles. With our complete selection of hardwood flooring, you can easily find the flooring that meets your needs and style for any project.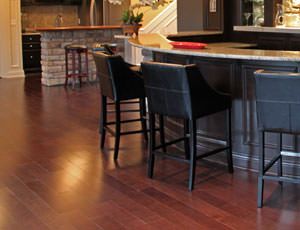 Unfinished Hardwood Flooring: We carry a wide variety of hardwood flooring in stock in our St. Louis stores. This includes popular wood species including Oak, Cherry, Maple, Hickory, and Ash hardwood flooring.
Prefinished Hardwood Flooring: We are a St. Louis dealer for Somerset flooring and we sell a complete selection of prefinished hardwood flooring from this manufacturer. This solid wood and engineered wood flooring comes in a variety of colors, styles, species, and sizes in order to meet any style and design.
Come into one of our St. Louis hardwood lumber stores if you would like to see our available selection of hardwood flooring or to purchase the hardwood flooring you need. You can also contact us to learn more about our hardwood flooring selection.
Choosing Prefinished vs. Unfinished Hardwood Flooring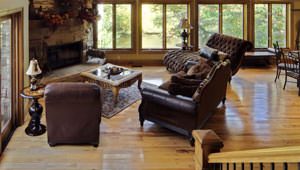 Deciding between prefinished or unfinished hardwood flooring can be difficult for any homeowner. There are a number of factors to take into consideration when making the decision, and each type of hardwood flooring has its own advantages and disadvantages.
By taking the time to consider each alternative, you can be sure that you choose the best option for you.
Advantages of Prefinished Hardwood Flooring
Prefinished hardwood flooring has become one of the most popular hardwood flooring choices for its convenience, affordability, and durability.
The advantages of prefinished hardwood flooring include:
Quicker, easier, and less messy installation as prefinished flooring is ready to snap together upon delivery and furniture can be placed in a room immediately after installation is complete with no messy sanding or long drying time necessary
Affordability since applying the finish in the factory reduces labor costs for finishing and because many types of prefinished hardwood flooring can even be installed by the homeowner themselves
Durability as the process of finishing the hardwood flooring in a factory allows for special coatings and results in a more durable finish, which is perfect for high traffic areas and high humidity areas
Advantages of Unfinished Hardwood Flooring
Unfinished hardwood flooring is the traditional hardwood flooring that is installed and then sanded and finished at the site. While this floor is more time-consuming and costly to install, this type of custom hardwood flooring offers great versatility in design, color, and customization. It also provides a uniform design and seal and can be customized to match existing wood surfaces.
The advantages of unfinished hardwood flooring include:
Versatility to create any finish and choose any stain color in order to complement the natural beauty of the wood and create the unique style you desire
Uniformity due to the process of sanding and on site finishing which will create an even finish and seal by filling in any tiny cracks that may form from slightly uneven flooring planks and natural irregularities
Customization with the addition of borders, hardwood flooring inlays, and other special elements
To learn more about the advantages of each type of hardwood flooring and for help deciding which type of flooring is the best choice for your needs, please contact us or visit one of our St. Louis stores today.