Understanding the Different Types of Hardwood Stair Treads
Are you decorating your new home or looking to refurbish your existing décor? A great way to give your home an instant makeover is to refinish the stairs. Whether you are installing a new staircase in your home or simply repairing an existing one, there are many hardwood stair treads that you can choose from, which will offer a classy and sophisticated look. At St. Charles Hardwoods, we supply a large range of hardwood stair treads to suit any theme you may choose for your home. We offer hardwood treads of many different types based on design as well as the materials used. To see our selection, come in to either of our St. Louis area stores today.
Types of Hardwood Stair Treads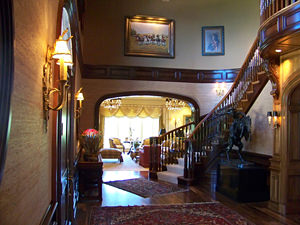 When choosing the right type of hardwood stair tread, it is important to ensure that the species and color of wood blend with your home' interior and the other types of wood used throughout your home. Depending on your budget and personal style, you can choose from many different hardwood stair treads in a variety of wood species to match your interiors. Wood stair treads are divided into three types based mainly on the types of materials used. Each type of stair tread has its share of advantages and disadvantages that make them equally viable.
Solid Wood: Solid hardwood stair treads are long lasting, durable and can undergo refinishing several times. However, owing to the thickness, these treads are expensive and require advanced skills for proper installation. They are prone to expand and contract and can be vulnerable in extreme or humid temperatures. Solid wood stair treads come in many different wood species and can be stained to match any interior.
Engineered Wood: This form of stair tread is less susceptible to extreme temperatures and moisture but is less durable than solid wood. It comes in a variety of wood finishes, but wears out easier than solid hardwood.
False End Treads: False end treads are a more affordable option for getting the look of hardwood stairs, but at a much lower cost. These inexpensive treads are mere add-ons that hang from the stairway's edge on both sides instead of fully covering them. These hardwood stair treads are intended to be used with stairs that have a row of carpeting down the middle.
Types of Hardwood Stair Treads Based On Design
Hardwood stair treads can also be distinguished by design or the type of staircase for which they are intended. Therefore, there are basically three distinct designs of hardwood stair treads designed for each of the three types of staircases. These include: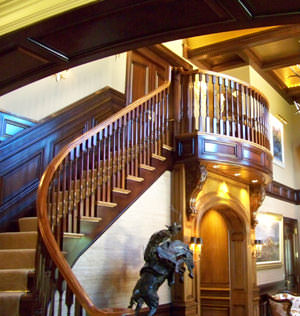 Closed Stairway: In the simplest terms, a closed stairway is bound by the wall on either side, usually with a handrail mounted on one side of the wall. Treads for these stairways are closed on both sides and do not have miter returns on the edges.
Single Open Stairway: This type of stairway is blocked by a wall on one side and open on the other. It features a handrail installed on the open side of the stairway. Hardwood stair treads for single open stairways are closed on one side and open on the other. Depending on which way the stairway is facing, they can be left hand or right hand mitered.
Double Open Stairway: These stairways are open on both sides and installed with double handrail systems. Double open stairways are both left hand and right hand mitered.
Find the Best Hardwood Stair Treads At St. Charles Hardwoods
If you are looking for different options for hardwood stair treads, your search ends at St. Charles Hardwoods. Regardless of the design, material, or size, we offer you the finest and best quality hardwood products. For more information on using the right types of hardwood stair treads or to see our selection of hardwood stair treads, contact our experts today.