Lauan Plywood: Buy Affordable Lauan Plywood in St. Louis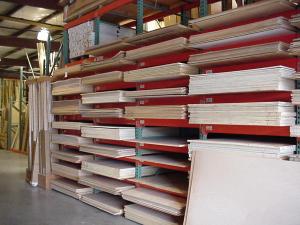 Lauan plywood is a type of plywood made from any of several different types of trees that come from the Philippines or the southern Pacific Rim. This wood has a distinct softness, pliability, and lightness that makes it ideal for die cutting and other small woodworking projects. Lauan plywood is an affordable plywood option that can be used to make cabinet backings, interior hollow doors, and a variety of woodworking crafts. Exterior lauan plywood can be used in a variety of outdoor projects including for small boat or kayak construction.
As a leading hardwood lumber company in St. Louis, we at St. Charles Hardwoods have a complete selection of lauan plywood in stock in our stores. Come in to one of our St. Louis stores to purchase the plywood you need for any project.
Our Lauan Plywood
At St. Charles Hardwoods, we carry both interior and exterior plywood in stock. This lauan plywood is made from a variety of species of trees that are native to the southern Pacific Rim. This is a softer material than many other types of hardwood plywood so it is not typically used as a building material but instead it is used in smaller applications. Exterior lauan plywood uses waterproof exterior glue, which allows it to be used in exterior applications including in boat construction projects.
Our selection of lauan plywood that we carry in stock in our St. Louis stores includes:
1/8" x 4' x 8' Interior Grade Lauan Plywood
¼" x 4' x 8' Exterior VC Grade Lauan Plywood
More About Lauan Plywood
Because lauan is a softer wood, interior lauan plywood is intended for non-structural applications where a high quality aesthetic finish is required. It is often used on small projects and home woodworking activities such as toy making because this plywood is inexpensive and can be cut easily into small pieces without risking layer peel back. Because of the wood's softness, lauan plywood, especially wood that is 1/8 or ¼ inch thick, can be cut or stamped with a die in order to make small pieces for miniature tools, doll houses, and toys.
Exterior lauan plywood is often used in boat construction projects as a substitute or cheaper alternative to marine plywood. Because it is a very light material, lauan plywood can be used for the construction of kayaks or other small boats. Exterior lauan plywood can also be used for several other outdoor applications as well.
Common Applications for Lauan Plywood
Some of the most common applications for lauan plywood include:
As a floor underlayment layer that is sandwiched between the sub-floor and finished flooring. This layer provides additional support to ensure that the floor finish is smooth, level, and firm.
As a backing for furniture and cabinets or for making drawer sides and bottoms as lauan plywood is lightweight and relatively cheap.
As a door facing for making solid surface panel doors with hollow cores. The lauan plywood can then be stained or painted to create a finished look.
For woodworking and small crafts including doll houses, birdhouses, picture frames, and other miniature woodcrafts.
Buy Lauan Plywood in St. Louis
To learn more about lauan plywood or to buy the interior or exterior grade lauan plywood that you need for your projects, please come into our St. Louis hardwood lumber store today. With our complete selection of lauan plywood and other types of imported plywood or hardwood plywood available in stock, we have the materials you need for any upcoming project.