Molding and Trim Installation Tips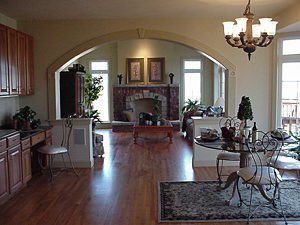 Molding and trim are slender boards, usually made of composite, wood, or plastic, which are used to edge or line the walls of the rooms in your home. They are intended to add an aesthetic accent to the room, and provide a more finished look as they hide the top and bottom edges of the drywall seams.
Installing molding and trim in your home can be a tricky task. The most important part is buying good quality molding and trim, preferably made from wood. At St. Charles Hardwoods, we bring you the finest quality timber you will find anywhere in St. Louis, and we can custom mill molding and trim in nearly any style and design.
To learn more about the types of molding and trim we have available, to see our in stock selection of mouldings, or to custom order molding and trim for your home, contact us or visit one of our St. Louis area stores.
Installing Molding and Trim in Your Home
After you select the molding and trim you are going to use in your home, you will need to know a few important things about the installation process. If this is your first time doing an installation, it is important to research the proper procedures before you begin in order to avoid making any mistakes or ending up with a less than satisfactory outcome.
Here are some basic tips for installing molding and trim:
You should allow wood molding and trim time to get used to the temperature and the humidity inside your house before installing. Therefore, you should leave the molding and trim inside your home for at least 24 hours after you purchase it before installing so it can become acclimated. Failing to do this could lead to warping of the wood over time.
Stain or paint all the exposed surfaces of the molding and trim before installation. Trying to paint these surfaces after installation can be clumsy and frustrating. Therefore, you will want to get the painting out of the way, so you do not have to worry about it later.
Check and recheck the measurements along the walls before you buy the molding and trim. It is better to be too prepared then end up with too little wood halfway through your project.
When driving in the nails, make sure they countersink. This means the head of each nail should be a little below the surface of the wood. You can then use a little wood putty across this area to completely hide the nail from sight.
Finally, after the installation is done, do not forget to caulk all joint gaps, seams, and nail holes. Caulk in the gaps between the molding and trim and the wall. Then, smooth it out and make it even using a putty knife. Later, you can touch up the paint and your molding and trim will look picture perfect.
Types of Molding and Trim
At St. Charles Hardwoods, we have a wide variety of different types of molding and trim options from which you can choose. Some of the types of molding and trim you will find at our stores include:
Crown Molding – Also known as cornice or ceiling molding, this is the trim that runs along the top part of your wall, where it meets with your ceiling.
Base Boards – This is the trim that lines the base of the wall, where it meets the floor.
Casing – The molding and trim around doors and windows is called casing. It serves as a frame for the doors and windows and tend to be thick in comparison to other trims
Chair Rails – This is the trim that runs along the middle of the wall all around the room. It is meant to protect the wall from chairs and other furniture bumping your walls and chipping the paint.
St. Charles Hardwood Serves All Your Molding and Trim Needs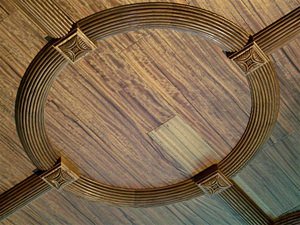 The molding and trim in your home is very important for visual appeal and for making your home look complete. At St. Charles Hardwood, we understand that your vision of your home is unique. That is why we have a large selection of molding and trim available from which you can choose. We also make custom molding and trim on request.
If you are looking for a specific type of wood molding and trim, contact us or visit one of our hardwood stores today!