Saw Stop Table Saws: What Makes them Better than Other Table Saws
In 1999, Steve Gass, the owner and founder of Saw stop, took a huge step in the pursuit of improving safety standards in the power tool industry. Therefore, he set out toward creating an automatic electronic braking system for table saws. The result was the 'Saw Stop Table Saw'. The Saw Stop table saw, available in multiple models, has revolutionized the power tool industry. The electronic braking system is able to detect when the saw makes contact with a human body part and turn off the spinning blade within 3-5 milliseconds.
Beyond the revolutionary braking technology, they have also developed other advanced features that make it stand out from the rest.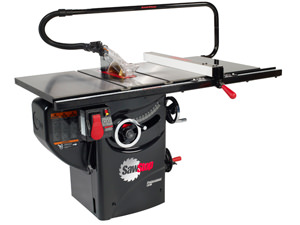 St. Charles Hardwoods is one of the finest woodwork and lumber supply companies in St. Louis, Missouri. With over two decades worth of experience in the industry, St. Charles Hardwoods has developed an impeccable business record. We offer a diverse range of wood-related products and services. This includes supplying all models of Sawstop table saws including those for hobbyists and professionals alike.
Advantages of a Saw Stop Table Saw
Since Saw Stop developed its patented braking technology, it has taken the power tool industry by storm. Few saws are able to match Saw Stop when it comes to safety standards. However, the company was not just content with setting the bar for safety. By integrating several other unique and useful features into their saws, Saw Stop has elevated themselves into a league of their own.
The following are just a few of the advantages that Saw Stop table saws have over their competitors.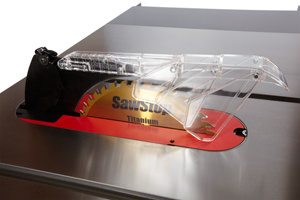 Saw stop table saws are user friendly. Many woodwork specialists have commented that it is very easy to become familiar with a Saw Stop table saw. Generally, carpenters and craftsmen are apprehensive about using a table saw they aren't familiar with, but this is different in the case of a Saw Stop saw, owing to the safety precaution of its braking system.
The advantage of the revolutionary electronic braking system cannot be stressed enough. Through patent rights, Saw Stop is the only manufacturer that is able to integrate this technology into its table saws. The woodwork industry can be dangerous one if you are inexperienced, but even experienced individuals run the risk of serious injury. Saw Stop table saws, with their braking technology, relieve the pressure on a woodwork artist, by greatly reducing the risk of injury.
Saw stop table saws are renowned for their dust collection technology. When using other table saws, dust becomes a huge concern, causing dire working conditions. Workers may struggle to breathe properly, and work often needs to be postponed until dust is cleared. Saw Stop table saws integrate a super-efficient dust collection system, thus increasing the productivity of the woodwork engineer.
In keeping with the user-friendly interface, Saw Stop's instruction manuals are also detailed and easy to understand. With clearly written guidelines and illustrations, the manual makes it much easier for the artisan to familiarize himself with the equipment.
Saw stop table saws allow for easy transitions between different kinds of blades and knife. Its tool-free quick-change mount guard makes changing cutting tools very convenient.
One of the most important advantages of Saw Stop table saws is that they use only the finest materials in production. All raw materials are sourced from reliable producers. This translates into increased durability.
Buy Saw Stop Saws from St. Charles Hardwoods in St. Louis
If you are looking to purchase a Saw Stop table saw at the best prices, make sure you visit one of our St. Charles Hardwoods stores in St. Louis today. We are one among the leading trusted dealers of Saw Stop table saws and have all models in stock. To learn more about these saws or any of the woodworking products we supply, come by one of our stores or contact us today!