Complete Your Stairway Installation with Custom Stair Riser Tread Components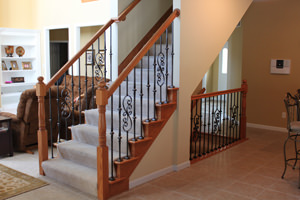 Regardless of how small a stair component is, each part plays an important role to fulfill and contribute to the overall strength and sturdiness of a stairway. One example is the stair riser. Working in unison with stair treads, these risers hold up the weight of the treads and ensure that every step you use is safe and stable. At St. Charles Hardwoods, we offer a wide range of stair riser components, varying in size, thickness, material, and wood grade.
We can also custom make stair risers to match any existing components or to create any unique style.
For over two decades, we have been catering to the needs of households and commercial spaces across the St. Louis area. Visit the experts at St. Charles Hardwoods today to browse our collection of excellent stair riser tread components or to place a custom order.
Choose From a Wide Stair Riser Tread Selection at St. Charles Hardwoods
Are you starting a new stairway construction project or performing repairs to an existing staircase? St. Charles Hardwoods can provide stair riser tread parts for any new project as well as match existing components.
We provide exact matches for your existing staircases with a wide range of wood species in different sizes and thicknesses in stock and custom manufacturing available.
We cater to small and large projects, supplying to single homes as well as large buildings across the St. Louis area.
Apart from regular in stock varieties, we can also customize stairs and risers to suit the unique specifications and design needs of any customer.
At St. Charles Hardwoods, you can be assured you will receive top quality components, expert guidance on assembly, quick response from our stores, and guaranteed customer satisfaction.
Are you looking for assistance finding the right components for your stairway or simply some guidance on understanding different components of a stairway? Talk with the experts at St. Charles Hardwoods today.

Buy Quality Stair Riser Tread Components from St. Charles Hardwoods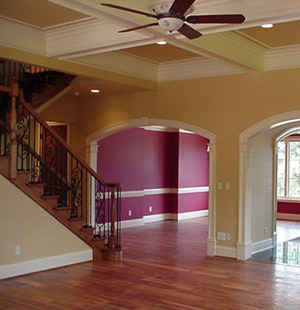 A stair riser is a crucial component to provide a solid foundation for your newly installed stairway. That is why you should choose the best supplier and top quality products to ensure that your stair riser can withstand the weight of the staircase and will offer quality for years to come.
When you choose St. Charles Hardwoods, you will be pleased to see that we offer:
Extensive selection of hardwood stair riser parts
Custom manufacturing for matching existing components
Wide variety of accessories for visual enhancement
Unique and exclusive designs and styles for customized solutions
Durable and long lasting selection
Ample stock of all products
If you would like to learn more about the types of stair riser and other stair parts and components that we have available, you would like to see our complete selection of in stock products, or you would like to discuss your needs for custom stair part manufacturing. Visit us at St. Charles Hardwoods today. With a wide selection and some of the best prices for the best wood and lumber products in the St. Louis area, we are your number one source for woodworking and hardwood lumber supply.