Understanding Stairs Parts & How They Fit Together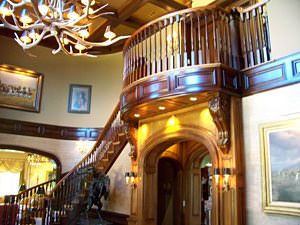 Are you installing a new stairway in your home? If yes, the first thing you should do is familiarize yourself with the different types of stairs parts and components that you will need to use. At St. Charles Hardwoods, we offer a wide selection of all of the stairs parts necessary to complete your staircase. From wood treads and risers to elegant balusters and newels, we have all of the stair parts you will need. To learn more or see our selection of stairs parts, visit one of our St. Louis area stores today.
Common Stairs Parts: Definitions and Functions
All stairways, regardless of their design or complexity, are made of certain essential components that hold them together. Stairs parts include a large number of unique components with distinct features that are used in varying combinations to create the intended staircase. Here are some of the most common types of stairs parts that are available at St. Charles Hardwoods.
Stringers: Stringers are the vertical sections that support the entire stairway. These are considered the backbone of the staircase as they provide support for other stairs parts and components.
Balusters: These stairs parts are thin vertical support components made of iron or wood that connect the railing to the stairs. They are usually installed under the railing as well as on the stairs.
Box Newels or Newel Posts: The railings are primarily supported by two newels. Newel posts or box newels are strong enough to support the rail's weight, while keeping it securely in place. Their height can vary depending on the railing's height.
Shoe Rails: These stairs parts run in a horizontal plane along the bottom of the stairway and are used to terminate the square bottom balusters into notches. Shoe rails are used in combination with fillets to complete the open spaces left between balusters.
Risers: These are the vertical sections that support the treads. They close off the staircase and make it appear more finished.
Treads: These stairs parts are the primary parts of the staircase on which you will walk. They need to be durable and sturdy while also offering beauty.
Want to know more about stairs parts and how they work in unison? Contact our experts at St. Charles Hardwoods. We can show you our large selection of stair parts and help you select the right stairs parts for any staircase.
Why Choose St. Charles Hardwoods For Stairs Parts?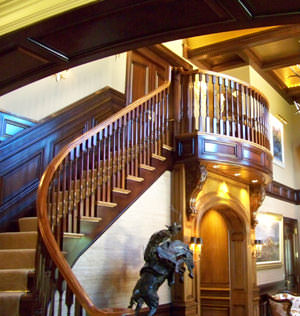 When searching for stair components to install in your home, you should look for several qualities like reliability, quality, and affordable pricing. At St. Charles Hardwoods, we offer all three without compromising on our professionalism and quality of service. Here are some reasons you should choose us to supply stairway parts for your home. We offer:
Exact matches for existing parts to minimize cost
Exciting variety of stair components
Unique range of styles and design to choose from
Extensive range of accessories for enhanced visual appeal
Large stock of components for easy availability
Durable components made from quality materials
Regardless of the type, size, and design of stairway parts you require, we can help you find the best components for the best prices. Contact us today to review our selection of stairway parts.
Find Top Quality Stairs Parts at St. Charles Hardwoods
If you are refurbishing your home or installing a new stairway, it is important to understand the different components and stairs parts you will need to use and their functions. If you are looking for more information on how these components work together, contact our experts at St. Charles Hardwoods today. Apart from offering the finest selection in wood and metal components, we also offer great advice on choosing the right pieces to install in your home. Contact us today or visit one of our St. Louis stores to learn more.