Testimonials for Our Woodworking & Hardwood Supply Company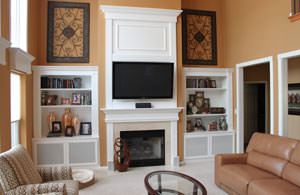 At St. Charles Hardwoods, it is our goal to be a leading woodworking and hardwood supply company for the entire St. Louis area. With our large selection of hardwood, hardwood plywood, imported plywood, lumber, and moulding, we have everything that any woodworker needs for nearly any type of project. In addition to selling a large selection of wood products in stock in our hardwood supply stores, we also sell a variety of woodworking tools and accessories as well.
We also staff only knowledgeable and skilled employees who have experience in a variety of woodworking fields. These employees are available to provide expert advice and answer any of our customers' questions.
With our complete selection of in stock and custom woodworking products and our knowledgeable employees, we have become a complete woodworking source and hardwood supply store for contractors, carpenters, furniture builders, cabinet makers, homebuilders, woodworking professionals, hobbyists, and do-it-yourselfers throughout the St. Louis and St. Charles areas. Therefore, our customers have come to trust us as their St. Louis woodworking store.
You can learn more about what our customers are saying about us with the testimonials below or come into one of our hardwood supply stores to learn more about us today.
What Customers Say About our Hardwood Supply Company
"Using St Charles Hardwoods for 23 years has been a major benefit to Kenny Terbrock Signature Build. As a custom home builder and a remodeling contractor it's important to use quality vendors such as St. Charles Hardwoods. My business depends on great quality of product and service and I have found that St. Charles Hardwoods provides me with both of these on a consistent basis. I have a choice of who I can use to supply my hardwood needs but I can't imagine getting a better value going with anyone else.
My job is to provide my client with the best products and service and in order for me to do that I need companies like St. Charles Hardwoods to do what they say the are going to do, when they are supposed to do it. And I have never been let down after all of these years. Whether I have a multi thousand dollar order or a single piece of molding, the service is the same. And I think that is the number one thing that proves to me they are all about service and keeping their clients happy."
- Kenny Terbrock - President, Kenny Terbrock Signature Build
"Thank you for the opportunity to recommend St. Charles Hardwoods. In our experience, the quality of the staff and the products available through St. Charles Hardwoods go unmatched in the St. Louis area. In Liston Construction's 30 years of business, we have never been disappointed in the variety and selections available on a daily basis. As a design/build remodeling contractor, we often encounter distinctive or unique applications that require customized woodwork as well. St. Charles Hardwoods has the ability and experience to meet those specific requests.
The entire staff is both knowledgeable and willing to do whatever it takes to meet our needs. We are fortunate to have Mark for our salesperson. We often lean on Mark's knowledge to solve challenges in matching wood types, design and custom work. In addition to his experience, Mark never fails to respond in a timely manner with pricing and product requests.
As President of Liston Construction, I am thankful for our relationship with St. Charles Hardwoods and the service they provide."
- Keith R. Liston - President, Liston Construction
"It has been and will continue to be a pleasure dealing with St. Charles Hardwoods. They provide a level of personal and professional service that is difficult to find these days. We are fortunate to have a locally owned and operated company where quality service and customer gratitude go hand in hand."
- Mike Rachocki - The Scobis Company
"I am a custom homebuilder in the St. Louis area and have been doing business with St. Charles Hardwoods for many years. They have always provided me with the best material available at a competitive price and always stepped up to the plate for us no matter how complex the project. It is a pleasure to do business with St. Charles Hardwoods."
- Steve Williams - Williams Development, Inc
Learn More About Our Woodworking & Hardwood Supply Company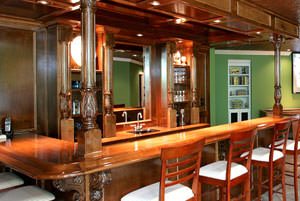 If you would like to learn more about our woodworking and hardwood supply company, feel free to contact us at either of our stores or come into one of our local St. Louis stores today. Our experienced and knowledgeable staff can help you to find the hardwood and woodworking products that you need for any project. We can also provide answers to your questions and offer expert advice. We look forward to becoming your local hardwood supply company and woodworking resource.
Woodworking & Hardwood Products We Supply
The quality hardwood and woodworking products and accessories that we supply and stock in our hardwood lumber stores includes the following:
Decorative Carvings: We sell a large variety of types of decorative carvings in stock and can custom manufacture any profile as well. Our selection of decorative carvings includes wood brackets, corbels, wood onlays, wood appliqués, and furniture legs.
Moulding: We stock several varieties of moulding including picture frame moulding, crown moulding, chair rails, panel moulding, and fireplace mantels. We can also custom mill any moulding profile.
Hardwood Flooring: We sell a variety of types of prefinished hardwood flooring and unfinished hardwood flooring.
Wood Decking: We can supply several varieties of hardwood decking including ipe decking and tiger decking.
Hardwood Plywood: We supply a large selection of hardwood plywood in stock in our St. Louis stores.
Imported Plywood: As a leading hardwood supply company, we also stock many varieties of imported plywood in our stores.
Marine Plywood: We carry marine plywood in stock in many different sizes to meet our customers' needs.
Wood Veneers: We sell a wide variety of types of wood veneers in several popular and specialty species.
Lumber: As a St. Louis hardwood supply company, we carry a vast selection of lumber including exotic lumber, pine lumber, cherry lumber, red oak lumber, and more.
Wainscoting Panels: We can supply many different styles and types of hardwood wainscoting panels.
Stair Parts: We carry a large selection of stair parts in stock including newels, balusters, and stair handrails.
Interior Doors: We are a leading supplier for Woodharbor interior doors, and our available selection includes a variety of styles of wood interior doors.
Brass Bar Railing: We carry a large selection of brass bar railing and bar railing accessories in stock for home and commercial bars.
Wood Turning Blanks: As a leading local woodworking and hardwood supply company, we can supply many different sizes and species of wood turning blanks.
Table Saws: We sell many types of contractor grade, hybrid, and cabinet style table saws.
Wood Lathes: We carry wood lathes for woodworkers of all skill levels including both affordable, smaller models and larger, more advanced models.
To see our complete selection of woodworking products we supply, visit our hardwood lumber company stores today.