Tiger Decking: Low Maintenance Hardwood Decking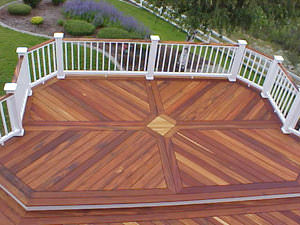 Tiger decking is a hardwood decking material that ranges from a light golden-brown to reddish-brown color with black and brown streaks. This exotic hardwood is an excellent choice for a decking material because it is naturally resistant to rot and decay. Tiger decking requires little maintenance, and this durable hardwood decking offers a 25+ year lifespan without the use of preservatives.
At St. Charles Hardwoods, we sell tiger decking material in our St. Louis hardwood lumber stores. While we do not carry this decking in stock, we have a complete selection of tiger decking available with a quick lead-time, so that we can readily have the supplies available to meet your hardwood decking needs.
More About Tiger Decking
Tigerwood is a hardwood material that is known for its durability, beauty, innovative design, and efficiency of installation. Tiger decking comes from a South American species of hardwood that is abundantly available. This hardwood requires little maintenance and can last longer than many composite and softwood decking alternatives. Tiger wood decking offers many benefits over other decking materials including durability and sustainability, which makes this a popular choice for deck construction.
Some of the primary features that make tiger decking superior to other decking options include:
A natural resistance to rot and decay
A natural beauty with unique dark streaks and grain that distinguish this wood from other alternatives
A resistance to mold and fungus
A natural slip resistance even in wet conditions unlike composite materials
An expected 25 year lifespan without the use of preservatives and chemicals
Availability in a variety of lengths and sizes for any deck construction
Tiger Decking: A Durable Decking Material
Tiger decking is a durable and beautiful option for any deck construction project. This hardwood material requires little maintenance, and tiger decking is a hardwood material that is naturally resistant to insects, decay, and rot. This decking will last up to 25 years with little maintenance required to maintain the wood's natural durability and beauty.
Tiger Decking as a Sustainable & Environmentally Friendly Option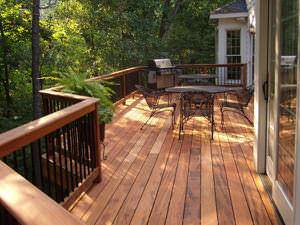 Tigerwood trees grow abundantly in many places and climates throughout South and Central America. This tree can grow up to a height of 120 feet. Our tiger decking is harvested in an environmentally friendly and sustainable manner in order to reduce the negative impact on the environment. Responsibly harvested tiger decking is a more environmentally friendly and more natural choice when compared to composite decking.
Additionally, unlike many softwood decking materials, tiger decking does not require the use of harmful and harsh chemical stains and treatments to protect the wood over time.
Buy Tiger Decking in St. Louis
If you would like to learn more about the benefits of choosing tiger decking for your deck construction, please contact us at our St. Louis hardwood lumber company. We can supply tiger decking in a variety of lengths in order to meet your specific needs. We will have your order processed and ready with a quick lead-time, so call or visit our St. Louis stores today to learn more about this material and to place your order for hardwood decking.