Tiger Wood Decking: Blending Beauty with Durability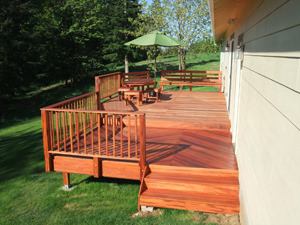 Are you thinking of building a deck? Have you considered what is most important to you when taking up a deck-building project? With most wood or composite decking material, there is always a tradeoff between beauty and durability. As a result, you are forced to settle for a poorer version of your dream deck.
However, that does not have to be the case. Tiger wood decking is growing in popularity amongst homeowners in the United States. Tiger wood decking is recognized by a golden-brown hue coupled with reddish-brown, black, and brown tinges. This hardwood originates from Central and South America where it is found in natural abundance. This wood offers both beauty and durability, making it ideal for any deck construction project.
Tiger decking is just one of the many types of hardwood products that we at St. Charles Hardwoods take immense pride supplying. Since our inception as a minor hardwood supplier in 1988, we have grown into one of the leading suppliers in the St. Louis region. We provide high-end products with a quality assurance guarantee.
To learn more about the products our hardwood lumber company supplies, contact us or visit one of our stores today.
Why Choose Tiger Wood Decking?
Tiger wood decking has numerous advantages over other wood or composite decking materials. It is particularly recognized for its unparalleled durability. Similar to hardwoods like ipe, tiger wood decking requires extremely low levels of maintenance owing to its high density and tightly wound grain patterns. It is also becoming hugely popular because it can be harvested in an environmentally sustainable manner.
The following are some of the main benefits of tiger wood decking.
The last thing a homeowner wants to spend time, money, and energy, frequently maintaining his/her deck. A deck is exposed to all kinds of conditions and must be capable of withstanding these conditions effectively. Tiger wood decking, has a high density and it is extremely resistant to rot and wood decay. Therefore, it requires very little maintenance.
Beyond its resistance to weathering, tiger wood decking is highly known for its beauty. With a wonderful reddish-brown color that incorporates linear streaks of brown and black, it effortlessly stands apart from other wood decking materials.
The tight grain pattern of tiger wood decking makes it resistant to mold and fungal build-up, similar to ipe decking.
The durability of tiger wood decking cannot be overstated. Tiger wood decking has no match when it comes to durability. It has the capability to last for over 25 years without the need of any chemicals or finishes. Its water repellant nature also contributes to its durability.
Tiger wood's high density and grain patterns ensure that it creates much friction, reducing the chances of someone slipping and falling.
Since tiger wood is so abundantly available, it can be purchased in various sizes and lengths.
Tiger Wood Decking: Safe for the Environment
Today, there is a common trend for many homeowners to make conscious efforts to live cleaner and better lives, in a quest to protect the environment. Environmentally harmful material and chemicals are being used less and less and the shift towards environmentally friendly living has never been as prominent as it is now.
Tiger wood decking is a leading environmentally friendly decking option because the wood is found abundantly in Central and South America. Moreover, it is even more advantageous in that it does not require environmentally harmful chemical treatments, like other wood decking materials do.
Buy Tiger Wood Decking in St. Louis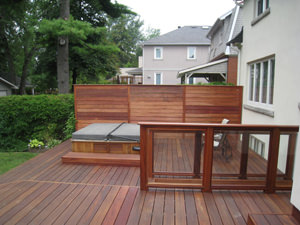 We, at St. Charles Hardwoods, are committed to with providing only the safest and best decking options for our customers. We can supply a large variety of tiger wood decking in many lengths in order to satisfy any customers' needs. If you are considering building a deck with tiger wood, look no further than St. Charles Hardwoods, the leading hardwood supplier in St. Louis. Call us today or visit one of our stores to learn more about the tiger wood decking we have available.