Buy Custom Trim and Moulding in St. Louis
Does your home lack flair and elegance? Are you looking to spruce it up in some way? Trim and moulding are decorative features that can serve a multitude of purposes. Trim and moulding come in different types and can change the décor of a room to different effects. These features are typically used to add a touch of elegance and character to a room.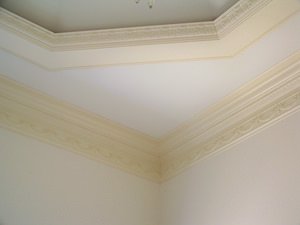 If you are looking to integrate decorative wood features into your home, St. Charles Hardwoods is the destination for you. St. Charles Hardwoods originally began in 1988 as a small lumber supply company. In the last two decades, we have expanded into one of the leading woodwork specialists in the St. Louis area. With a team of dedicated professionals, we guarantee to provide you with wood products and services that cater to your unique taste.
To learn more about the types of trim and mouldings that we can supply, visit our St. Louis hardwood lumber company or contact us today!
Types of Trim and Moulding
Trim and moulding come in different forms and can be used in several different ways. These features can be used to not only improve the general aesthetic of a room or a home, but also to hide imperfections, scratches, and unwanted marks present on walls, ceilings, floors, etc. In this sense, they serve the dual purpose of beauty and practicality.
The following are some of the main types of trim and moulding we supply: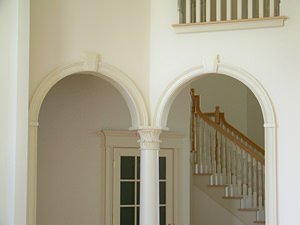 Baseboard moulding is a decorative type of trim and moulding that is used to connect the wall and floor in a room. Baseboard moulding typically runs along the entire boundary of the room and is a clever way to contrast the color of the walls from the floor. Beyond its decorative value, it also helps keep flooring and carpet in place. Additionally, baseboard moulding prevents anything from coming into contact with the wall. This includes objects like shoes, brooms, vacuums, etc. that are likely to cause marks or scratches along the walls.
Cap trim and moulding is a decorative feature that is typically found at the top of flat wood moulding. For example, using cap moulding over where base moulding ends and the wall begins, helps give the base moulding a rounded, complete look. Cap trim and moulding is used to accent other forms of moulding and provide a completed look.
Back band moulding is similar to cap moulding in that it is also used to complete the decorative effect from other forms of moulding. Back band moulding is typically used on the frames of windows and doors.
Ceiling moulding, also known as crown molding, is used to achieve the same effect as baseboard moulding, but for the ceiling. It is used to create a smooth transition between a wall and ceiling. It also serves the purpose of hiding unwanted blemishes.
Chair rail trim and moulding is a decorative feature commonly integrated on a wall, between the floor and the ceiling, but much closer to the floor. Chair rails also have the effect of creating a color contrast within the boundary of the wall itself. The reason it is called chair moulding is that it prevents furniture (like chairs) from denting or scratching the wall.
Door or window casing is another feature used to improve the aesthetics of a home. These are wooden trim and moulding designs integrated around doors or windows, in an attempt to frame them. They are easy to install and add a sense of regality to the room.
Buy Trim and Moulding from St. Charles Hardwoods in St. Louis
At St. Charles Hardwoods, we offer a giant selection of trim and moulding features to meet any style. It is our primary agenda to provide our clients with an unparalleled variety when it comes to trim and moulding options. If you are looking for custom trim and mouldings to decorate your home, we can provide you with a range of options to satisfy your needs. Call us today at (636) 717-1770 or (636) 926-2000 to learn more.