Walnut Plywood: Hardwood Plywood in St. Louis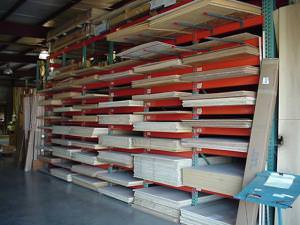 Walnut plywood is a beautiful hardwood that can range in color from a light gray to a dark purplish brown. It features a distinct grain and can be polished or stained to a nice sheen. Walnut plywood is easy to work with and very strong, which makes it ideal for a variety of applications around the home including for furniture, cabinets, doors, flooring, and architectural woodwork. At St. Charles Hardwoods, we carry a variety of sizes and grades of Walnut plywood. We maintain a significant stock of these types of Walnut plywood in order to meet any customer's needs.
If you would like to learn more about Walnut plywood or would like to purchase the plywood you need for your project, please contact our St. Louis hardwood lumber company or stop by one of our St. Louis stores.
Our Selection of Walnut Plywood
At our St. Louis hardwood lumber stores, we stock a complete selection of Murphy Plywood. With this stock, we have at least 30 to 50 sheets of Walnut plywood in stock at all times in order to meet your specific needs for any upcoming project.
Our selection of Walnut plywood that we carry in stock includes:
1/4" x 4' x 8' FC, Domestic, PS, A-4
3/4" x 4' x 8' VC, PS, NS, A-1
1/4" x 4' x 8' FC, Import PS, A-4
In addition to this selection of Walnut plywood, we also stock a variety of additional types, grades, sizes, and species of hardwood plywood for use by contractors, woodworkers, and the self hobbyist. Come in to one of our St. Louis area stores or contact our hardwood lumber company today to order or buy the plywood and lumber supplies you need for your next project.
More About Walnut Plywood
Walnut plywood has a very distinct contrast in color with a creamy white sapwood from the outside of the tree and a rich chocolate or purplish brown color in the heartwood. Walnut typically has a straight grain and produces more figure variation than any other wood. Additionally, depending on the way in which it is cut, Walnut plywood can have a distinct grain or it can be more plain. It has a dull sheen that blends well with many other types of woods and natural materials to create a friendly atmosphere. Walnut plywood takes and holds paints and stains very well and can be easily polished to create a beautiful look.
This hardwood plywood is moderately heavy, very strong, and exceptionally stable. It is the ideal choice for a variety of applications because of its stability and ease of machining. It can be cut easily with most power tools and will produce crisp detail when sanded. Walnut plywood is commonly used for any number of projects throughout the home including for:
High-End Furniture
Architectural Woodwork
Musical Instruments
Decorative Panels
Interior Trim
Flooring
Cabinets
Doors
Novelty Or Decorative Items
To learn more about Walnut plywood or to order the plywood you need for any upcoming project, come by our St. Louis hardwood lumber stores or contact us directly today. As a leading St. Louis hardwood lumber company, we supply all of the lumber, hardwood plywood, and other woodworking accessories needed to meet any contractor, woodworker, or hobbyists needs.