Why Use Molding and Millwork?
Adding molding and millwork to your wall panels and ceilings can give your home or office an old world charm and beauty. Decorative molding and millwork is used to enhance the wood paneling or ceilings of a room and can be installed very easily with very little modifications. Are you thinking about installing molding and millwork in your property? Looking for a company that supplies the widest range of millwork in Missouri? Look no further than St. Charles Hardwoods, the premier hardwood products supplier in the St. Louis area.
When remodeling or building new properties, many people often forget about beautifying the walls and ceilings. However, these details like adding paneling, molding, and millwork on your walls or ceilings can enhance your space and add an elegance. We have a wide range of wood paneling and other millwork in stock that will fit into the décor and theme of any space. Most importantly, we can create custom wood panels, molding, and millwork for your home with the help of our local mill. Our custom molding and millwork are bound to make your home stand out from the rest.
Contact St. Charles Hardwoods today to get the best custom molding and millwork at extremely competitive prices.
Why You Should Use Molding and Millwork to Enhance Your Ceilings & Walls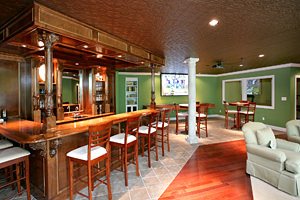 Elegant details such as adding intricate molding and millwork throughout your home has always been a way of enhancing the architecture and allowing beauty to shine through. Molding and millwork has been used extensively for customizing wooden wall and ceiling panels. These features can also be used to trim windows, paintings, fireplaces, fireplace mantels, built in cabinets, and add picture frame boxes and other details to the walls of commercial and residential properties.
Some of the primary reasons for including intricate and custom molding and millwork in your home include:
Molding and millwork can give a more finished and prim look to your space.
Ceiling panels combined with molding and millwork can define the look of your property.
Molding and millwork add depth and character to otherwise plain walls.
At St. Charles Hardwoods, we offer a wide variety of types and styles of molding and millwork that can be used to tie-together the look of windows, fireplace, mantels, walls, and built-in cabinetry of your home or office. Here is a list of some of the types of molding and millwork that we offer:
Cove molding
Crown molding
Base molding
Chair rail molding
Casing
Frieze molding
Cornice molding
Bed molding
Flexible molding
L-molding
Rosettes
Medallions
Pediment
Corbels
Jazz-Up Your Home with Custom Molding and Millwork from St. Charles Hardwoods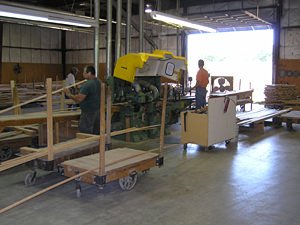 For centuries, custom wood molding and millwork were reserved for the upper class. However, today wood molding and millwork is affordable to all who want to add an elegant touch to their home. Beautifully carved wood pieces can make any room look more luxurious and expensive.
At St. Charles Hardwoods, we have a large collection of wood molding and millwork, but if you are not satisfied with the collection and want something more unique, we can create custom pieces for you.
We run our own local mill so you can get custom wood molding and millwork in any style, species, and design that you desire. We offer custom millwork in:
Walnut
Cherry
American Beech
Mahogany
Red Oak
Birch
Pine
Reclaimed wood
Poplar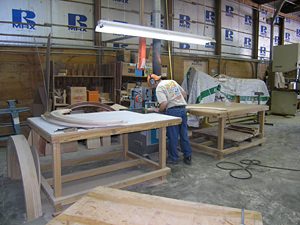 Contact Our Molding and Millwork Experts Today!
If you have been searching for custom molding and millwork to enhance the look of your home and add a luxurious beauty, contact us or come in to one of our St. Louis area hardwood stores today. With a variety of styles in stock and many custom styles available, we can help you find the moulding to meet your needs.