Stair Parts: Newels, Balusters, & Handrails for Staircases
At St. Charles Hardwoods, we sell a variety of types of stair parts including newels, balusters, handrails, treads, risers, and more. We keep most of these stair parts in stock in a variety of styles in order to meet our customers' needs at any time. Our wide selection of stair parts includes wood newels, balusters, and handrails in a variety of unfinished or white primed wood species.
To shop our selection of stair parts that we carry in stock please visit one of our hardwood lumber stores serving the St. Louis area or contact us.
Our Stair Parts
Newels: Newels are the supports that secure handrails in place. These are an important structural and decorative part to any staircase. Our wide selection of stair parts that we carry in stock in our stores includes wood newels in all styles and lengths.
Balusters: Balusters can add a decorative and stylish look to any staircase. In our wide selection of stair parts, we sell both iron and wood balusters in a variety of styles and designs. This includes several oak, maple, and poplar balusters including square top and pin top styles.
Stair Handrails: Whether you are looking for stair handrails to match an existing staircase or you need to find the perfect style to complete a new staircase, we carry a wide variety of wood stair handrails. Like all of our in stock and available stair parts, we sell stair handrails in a variety of wood species and styles.
Risers & Treads: Stair risers and treads make up the actual steps of a staircase. We carry a variety of styles of riser and stair tread parts in many different types of wood. We can supply the risers and treads to complete any look or to match existing woodwork throughout your home.
Stair Accessories: In addition to selling the main stair parts needed for staircases, we also sell a variety of additional stair parts and accessories for designing and building staircases. This includes moulding and nosing, hardware and accessories, tread brackets, starting steps, rosettes, shoe rails, and more.
Why Choose Our Stair Parts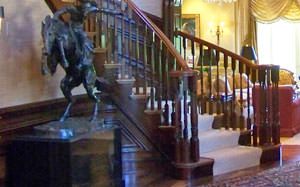 Our stair parts are an excellent choice for any new staircase construction project and when remodeling and updating staircases as well. We sell a variety of stair parts to help you find the wood stair parts and accessories needed to match existing staircases or woodwork in your home.
We also sell a variety of unique styles and designs that can help you to create a customized look for your staircase.
Some of the advantages of choosing our stair parts include:
Durability: All of the stair parts and staircase accessories that we carry are designed to last. These stair parts feature durable construction and they are made under strict standards, which will ensure beauty and durability for years.
Selection: We have a large selection of stair parts available in order to meet any style or design. This includes stair parts made of iron, white primed wood, and a variety of unfinished wood species including Red Oak, Hard Maple, Poplar, and more.
Availability: At our St. Louis stores, we maintain large stocks of some of the most popular stair parts and accessories in order to meet your needs. This includes several styles of newels, balusters, stair riser tread parts, banisters and railings. Because our stair parts are kept in stock, they are ready and available when you need them.
Buy Stair Parts in St. Louis
If you are interested in seeing our entire selection of stair parts including newels, balusters, handrails, risers, and treads, please contact our hardwood lumber company or visit one of our St. Charles Hardwoods stores. You can come into our stores to shop our selection of in stock stair parts or to learn about other parts and accessories we can supply. With our wide selection of stair parts available, you can easily find the stairs, parts and accessories you need for any project.