Sawstop Table Saw: Available at St. Charles Hardwoods in St. Louis
Any contractor, carpenter, or woodwork craftsman will tell you that in order to work efficiently, a table saw is a must-have. Table saws have several important features that hugely aid the craftsman in creating wood-related products. The Sawstop table saw has recently come to be known as one of the top table saws available on the market today. A Sawstop table saw, besides its being known for its operational efficiency, has a patented technology that aims to help avoid table saw related injuries and accidents among woodworking hobbyists and professionals alike.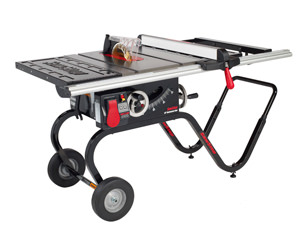 At St. Charles Hardwoods, we supply a wide range of lumber and wood working products, including the Sawstop table saw. As one of the leading woodwork and lumber supply companies operating in the St. Louis area, we have an exceptional business record that spans over twenty years. With our wealth of experience, and our team of committed professionals, we are your number one source for all your woodwork needs. To learn more about the products we sell, visit one of our St. Louis area stores in South County or St. Charles today.
What is Special About a Sawstop Table Saw?
The Sawstop table saw is the brainchild of Sawstop's owner and founder, Steve Gass. In 1999, Gass was struck with the idea of creating a table saw that quickly recognized when it came in contact with anything resembling the texture of human skin. Gass wanted to design a table saw that vastly improved the safety of the woodwork specialist. He created the Sawstop table saw using a unique electrical braking mechanism that underwent rigorous testing. As a result of their improvements on efficiency and safety, Saw Stop table saws, are now among the most sought after table saws in the industry. The Sawstop table saw has also merited several awards for its use of safety technology.
Another important characteristic that has made the Sawstop table saw so popular is the comprehensiveness in its features. Several accessories like Miter gauges, varying saw blades, feather boards, mobile bases, and dust collectors can be fully and seamlessly integrated into a Sawstop table saw, greatly increasing its utility and efficiency. In this way, carpenters and craftsmen can undertake and complete a large variety of products in minimal time.
Saw Stop Table Saw Models
There are several different models of Sawstop table saws available, all of which integrate their unique automatic braking technology. With several different models available, Sawstop sells table saws that cater to the needs of different kind of woodworkers from the professional craftsman to the at home hobbyist.
For example, professional carpenters may require saws that are extremely mobile without compromising efficiency and safety. Sawstop provides a model of table saw that caters exactly to these needs. Similarly, contractors may require the same kind of mobility when it comes to table saws, seeing, as they will need to transport it to and from the construction site.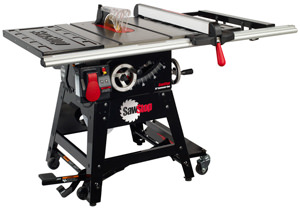 Sawstop has also engineered table saws intended for cabinet making. If you are a woodwork enthusiast, or do-it yourself handyman, this might be the option for you. This Sawstop table saw model may not have all the features available in the market, but are more than capable of helping you perform any wood-related projects in and around the domestic sphere. The Saw Stop table saw is also available in hybrid form, which combines the best of both models.
Learn More About Sawstop Table Saws
The Sawstop table saw, upon its introduction in 1999, totally revolutionized the power tool industry. Never before had an invention like this been conceptualized, and successfully created. Sawstop table saws are one-of-a-kind devices that make the process of woodwork safe and efficient for any craftsman.
Learn More About:
Buy a Sawstop Table Saw at St. Charles Hardwoods
If you are considering buying a Sawstop table saw and you would like to learn more about what makes these superior tools for every woodworker, visit St. Charles Hardwoods in St. Louis or give us a call at (636) 717-1770 or (636) 926-2000 to learn more.