What are Sawstop Table Saws?
Table saws have grown to become one of the most important pieces of equipment in the woodworking industry. Any professional carpenter, contractor, or craftsmen, undertaking commercial wood related projects, will tell you that table saws are now a requirement in the industry. In the past, table saws caused much controversy because of the lack of protection and safety associated with them. This all changed with the introduction of Sawstop table saws. Sawstop table saws introduced a new technology into the market that greatly improved the safety standards of the industry.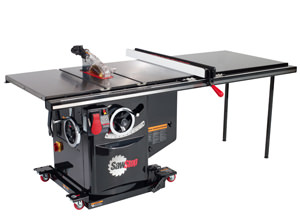 Since our inception in 1988, St. Charles Hardwoods has been dedicated to providing our customers with the latest innovations and products in the woodworking industry. Our dedicated and experienced staff is constantly on the lookout for new knowledge within the industry. We understand that in order to survive in an industry like woodworking, we have to evolve to cater to our customers' changing needs. A steadfast belief in this philosophy has helped us become the number one woodworking supplier in the St. Louis area.
To learn more about Sawstop saws, contact our hardwood lumber company or come in to one of our stores today!
Types of Sawstop Table Saws
Table saws are complex pieces of machinery, carefully designed to make woodworking quick, efficient, and safe. Sawstop table saws are equipped with a patented automatic braking system that ensures that a woodworking specialist is never in jeopardy of losing a body part or his livelihood. Sawstop produces multiple models of table saws, each of which having a different purpose, and catering to a different type of woodworking specialist ranging from professionals to hobbyists.
The main types of Sawstop table saws include: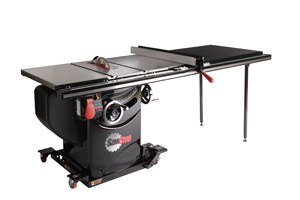 Contractor Table Saw: One of Sawstop's most popular table saws is its contractor table saw. Sawstop's contractor table saw is a large and heavy piece of machinery, fitted with base with wheels. The purpose of the contractor saw is to provide mobility as well as stability. This version of a Sawstop table saw is generally considered more affordable than others, and is targeted towards do-it-yourselfers looking to engage in personal woodworking projects. While this saw is extremely capable and safe, it compromises durability and power for mobility.
Professional Cabinet Table Saw: Sawstop is also renowned for its cabinet saws. Sawstop's professional cabinet saw is designed for the experienced woodworking craftsmen, and is known for several of its features. These saws are not meant to be portable. Beyond Sawstop's safety system, the professional cabinet saw is equipped with a dust collection blade guard, tool-free quick- change blade guard mount, sleek fences and rails, and a precision alignment system. The professional cabinet saw is also extremely useful in maintaining good workplace conditions, owing to its dust collection system that is 99% efficient. The saw comes in two forms that differ only in power and price.
Industrial Cabinet Table Saw: Sawstop's industrial saw is the mother of all table saws. A heavy-duty saw that is as powerful as it is precise, it is capable of anything, and everything the Sawstop professional cabinet saw can do. However, it can do it faster and better. Also equipped with a super-efficient dust collection system, precision alignment systems, and a strong and smooth fence and rail system, the industrial cabinet saw is the most advanced table saw in the world. This is Sawstop's most expensive model.
Why Sawstop Table Saws
Buying a table saw is an investment. Sawstop table saws are reliable and durable yet, like any piece of equipment, require frequent maintenance. Stacked with several features and accessories, Sawstop table saws are among the finest in the world.
St. Charles Hardwoods and its team of knowledgeable and dedicated professionals can help you make the right decision when it comes to buying a Sawstop table saw. We make it our responsibility to keep up to date with the latest trends and knowledge in the industry, so we can provide you with honest and accurate information.
Check Out Our Sawstop Table Saws Today!
If you are looking to buy a Sawstop table saw or any other woodworking related, St. Charles Hardwoods should be your number one destination. Visit one of our stores in St. Louis or give us a call at (636) 717-1770 or (636) 926-200 to learn more!