How to Replace Stairs and Risers – Tips from the Pros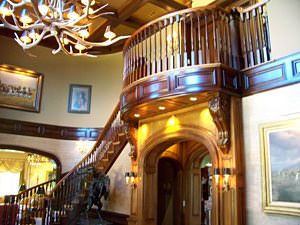 While wooden stairs and risers do offer a stylish and sophisticated look to the interiors of your home, these often need their share of maintenance, repair, and sometimes replacement to keep looking their best. With years of use, stairs and risers can become damaged, and they may need to be replaced with new parts.
At St. Charles Hardwoods, we sell a complete selection of stairs and risers. Whether you are building a new staircase or replacing worn out parts, we can provide the custom stairs, risers, and treads you need. To learn more, contact us or visit one of our St. Louis area stores today.
The Proper Replacement of Stairs and Risers
Before you begin replacing stairs and risers in your home, you will need to have some important tools available. This includes a pry bar, pencil, hammer, electric saw, glue gun, wood filler, construction adhesive, finish nails, wire cutters, chisels, and new wood materials. Then when you are ready to begin the work, you should follow some important steps. For example:
In most cases, you will start the process at the top of the stairs and work your way towards the ground.
Using the flat end of the pry bar and a hammer for wedging, remove the stair tread and nails from the stairs completely. Then pull any nails off the tread using a hammer.
If your stairs and treads are not already custom cut, you will need to lay the old tread on the new wood material and trace the outer edge of the old tread with a pencil. You can then cut out the new tread with a saw.
Next, expose the first riser, by removing the second tread using the pry bar and hammer. Again, if the stairs are not already cut, place the old riser on the new one and mark the outer edge, then cut it with a saw.
After you have removed and cut all the new treads and risers, begin at the bottom of the stairs, setting the first and second riser with finish nails.
Use construction adhesive to set the treads back on the stairs and push it until it bonds strongly with the two surfaces. Use hammer and nails to put the tread in place.
Ensure that you install the riser first and then the tread, working your way towards the top.
After you are done nailing all the stairs and risers, fill the holes created by nails with wood filler.
Why Should You Call On The Experts When Replacing Stairs And Risers?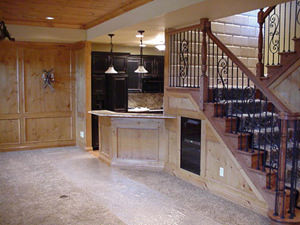 If you are planning to replace stairs and risers at home, you will want the best supplies for the lowest prices. At St. Charles Hardwoods, we offer just that. We can provide a large variety of stair parts in many different wood species and styles. We can also custom make any replacement pieces to meet your exact requirement and specifications. Regardless of your hardwood needs, we promise to provide you with an extensive range of hardwood options for stairs and risers.
If you are looking for hardwood options in the St. Louis County area, St. Charles Hardwoods is your best option. We offer:
Exciting variety of hardwood parts for stairs and risers
Exact matches for your existing parts to ensure minimal costs
Wide range of accessories to enhance the current look
Unique designs and styles for excellent customization options
Durable selection and top quality spare parts
Large stock of each product to ensure all-round availability
Buy the Stairs and Risers You Need from St. Charles Hardwoods
If you are planning to replace your stairs and risers, contact St. Charles Hardwoods today to choose from a wide selection of stair parts and accessories. With a huge selection of parts available, at St. Charles Hardwoods, you can be assured of quality materials that promise durability, strength, and great finish. To learn more about the wood stairs and risers we have available or for help replacing your stair parts, contact us or come by our St. Louis stores today!